IMMERSIVE TRAINING SIMULATIONS
It is well known that people learn best by doing, much more than by just hearing or seeing. That's why almost all organizations setup hands-on training paths for new hires.
When dealing with intrinsically hazardous environments, where making a mistake can have catastrophic consequences, "training on the job" becomes extremely dangerous for people, for the environment, and for company assets, and yet hard to schedule and very expensive.
VISIT™ (Virtual Site Induction Training) is 4DLABS' software platform for immersive training simulations, which allows trainees to come into contact with a simulated immersive 3D virtual world that emulates actual conditions, to familiarize with the scenario and gain information on its main elements, to perceive the underlying mechanics involved and allow the realization of several attempts, if necessary, to perform tasks without the cost associated with errors in a real situation.
The use of computer technology and advanced 3D video graphics for the purpose of training is known as "serious gaming".
Besides the major benefit of training people in hazardous environments without the need to subject trainees to real life situations, serious games have strong appeal to youngsters, capture and hold the attention of trainees, as well as they enhance curiosity and learning desire, providing an interesting activity all over the times.
FEATURES THAT MATTER
ZERO RISKS
To train your personnel in hazardous real life scenarios without real risks
Trainees come into contact with a simulated 3D virtual world to perform tasks without the costs associated with error in a real situation
REALISM
To enhance the sense of immersion and the retention of information
Any environment can be accurately reproduced in VISIT, in HD graphics and realistic rendering of scenes, objects and sounds
INTERACTIVITY
To perform almost any action that would be required in the real world
Avatars – directed by the trainee like in a videogame – can walk, run, jump, bump into objects, open doors, climb ladders
RAPID SCENARIO CREATION
To train personnel into environments distant both in space and time
We create your virtual world with maximum details accuracy using any existing engineering and design data sources
WIDE VARIETY OF PLATFORMS
To suit the needs of your personnel in any situation, in-office or travelling
Our simulators can be delivered in a variety of platforms and configurations: office, mobile, tradeshows, and more
UNLIMITED POSSIBLE SCENARIOS
To create any virtual world you like. The only limit is your imagination
Most typical applications span
from pure walkthroughs to highly interactive training and examination sessions
STATE OF THE ART TECHNOLOGY
To do things that were unimaginable 10 years ago
Our simulators use state-of-the-art graphic engine to make your virtual experience as real as possible and to enhance your learning desire
UNLIMITED WALKTHROUGH CAPABILITIES
To explore the virtual environment in almost anything like in the real world
Users interact with the elements of a virtual environment gaining information on the site and its main elements
SERIOUS GAMING!
To learn by making mistakes, while having an amazing experience
Like in a videogame, the user interface includes scoreboard, sound and graphic options, load/save capability, and other features
WE MAKE YOUR PROJECT LIFE EASIER
PLANNING PHASE
MAIN PROJECTS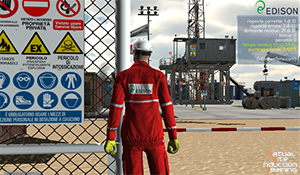 EDISON SpA 2015-20
Training project for new hires
Innovative project for the training of new hires at the Edison SpA headquarters in Milan (Italy) in a typical O&G drilling site.
The project met the Client's expectations, achieving greater involvement and better understanding by the students.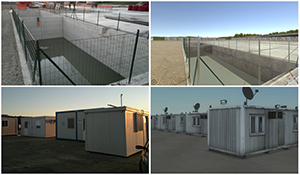 IRMINIO Srl 2016
HSE induction on land drilling site
All personnel, contractors and visitors entering the Irminio 6 land rig in Sicily received their site/HSE induction using our walkthrough simulator.
Customer received appreciation and praise from visitors and local authorities.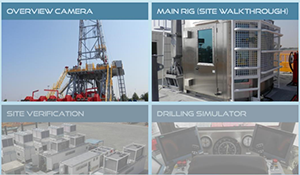 DRILLMEC SpA 2016
Drillmec HP land rig walkthrough
The project, which has involved the realization of a demo version for the 2000 HP Land Rig, should subsequently be extended to other Drillmec rigs, and be offered as a first HSE induction training tool for workers assigned to work on any Company rig.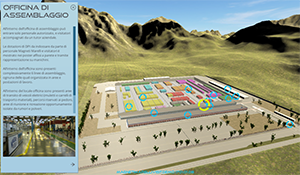 MAGNETI MARELLI 2016
Visitors HSE site induction
In order to ensure the highest HSE standards for the Magneti Marelli facility in Sulmona (Italy), Customer decided to install a VISIT walkthough workstation in the main lobby for the mandatory fisrt site/HSE induction to all Visitors and Contractors.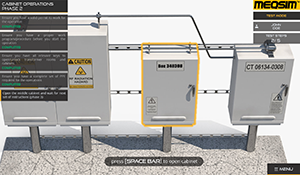 PHYSICAL SIM 2017-20
Various equipment virtual training
We have realized a number of highly immersive physical simulation systems for the training of workers on the use of complex, bulky, dangerous equipment. The almost perfect physical simulation quality and realism of environments and materials made the user experience educational, enjoyable and engaging.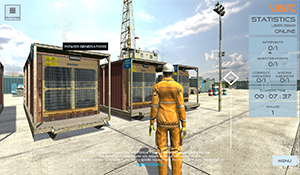 VISIT O&G 2018-20
V.T.E. for the O&G industry
4DLabs will launch in mid  2018 the first Virtual Training Environment for the Oil & Gas industry.
In our fast changing world, a step change in the way Companies train the new generations of workers is highly required, especially in intrinsically hazardous industry sectors.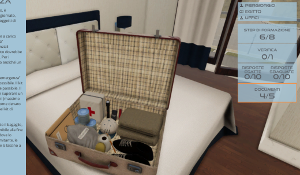 EDISON SPA 2018-20
Crisis Management training
Crisis Management Simulations, one for each critical location, were required by Edison with the aim of ensuring all employees are properly trained on crisis management and that they are ready to act properly when such emergency situations occurr.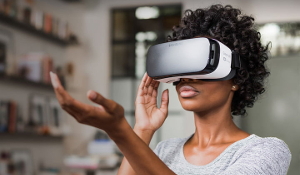 VIRTUAL REALITY 2018
Virtual Reality applications
We are experimenting exciting new virtual reality features with the aim of improving our Simulation Environments and stay up-to-speed with emerging technologies and Customer demand.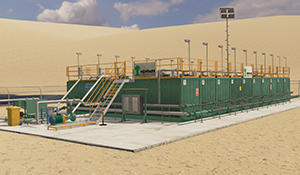 NEWPARK D.F. 2018-20
Liquid Mud Plant induction training
A full-size land rig, equipped with a complete set of Newpark equipment (Liquid Mud Plant, Filtering Units, Storage Silos, etc.), was realized for the training of new hires. Trainees could explore and get information on Company equipment and relevant safe working practices and procedures.
PRICING
VISIT TM O&G Demo
DEMO VERSION OF A TYPICAL OIL & GAS DRILLING/PRODUCTION WORKPLACE
FREE
(annual plan)
full size environment
unlimited walkthrough capabilities
unlimited basic information (AR)
limited information points (IP)
limited random events
limited animations
limited NP characters
one access per day
limited session duration
no certificate
SIGN UP
VISIT TM O&G Standard
FULL FEATURED VERSION OF A TYPICAL OIL & GAS DRILLING/PRODUCTION WORKPLACE
180
(EUR/user)
full size environment
unlimited walkthrough capabilities
unlimited basic information (AR)
14+ information points (IP)
random events (weather, accidents, etc.)
animations (vehicles, equipment, etc.)
NP characters (other characters)
unlimited access (for one year)
unlimited session duration
completion certificate
ORDER
VISIT TM Custom
YOUR WORKPLACE IN VR, OR A CUSTOMIZATION OF ONE OF OUR STANDARD ENVIRONMENTS
CALL
(custom price)
your workplace in VR !
unlimited walkthrough capabilities
unlimited basic information (AR)
14+ information points (IP)
random events (weather, accidents, etc.)
animations (vehicles, equipment, etc.)
NP characters (other characters)
secure servers and criptography
unlimited number of users
custom training plans
CONTACT US